Certainly, Mahatma Gandhi statue has not been placed in the Pakistan Museum out of any respect. In the statue installed there, he is talking to Mohammad Ali Jinnah. In fact, in September 1944, several rounds of talks were held between these two leaders in Mumbai (then Bombay) regarding the independence of India. This statue kept in the museum shows the same incident.
If Mahatma Gandhi had not been assassinated on January 30, 1948, he would have gone to Pakistan a few days later. He aspired to go to Lahore, Rawalpindi, and Karachi. Gandhiji wanted to visit Pakistan because, after the fierce violence that took place in the two countries after the partition, there was an atmosphere of harmony.
Gandhiji had also said, "I want to go to Lahore. I don't need any kind of security to go there. I trust Muslims. They can kill me if they want? But the (Pakistan) government on my arrival. How can she stop me? If she doesn't want me to come, she will have to kill me." – (Gandhi Wangmay, Vol. 96: July 7, 1947-September 26, 1947, p. 410).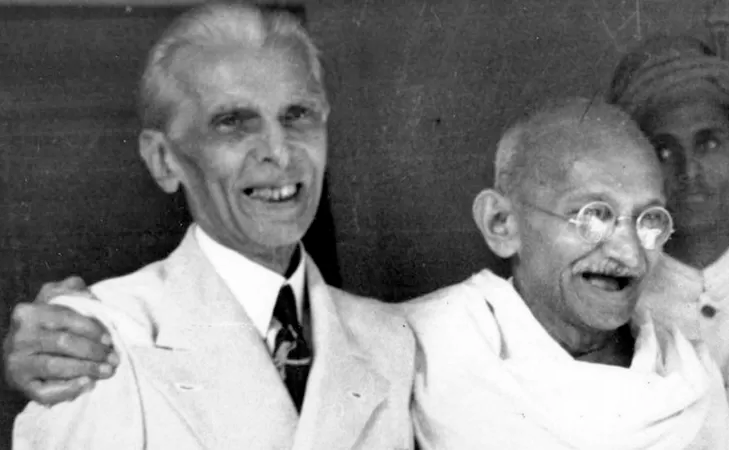 Difference between Gandhi and Jinnah
Pakistan's top political scientist and Jinnah's biographer Prof. Ishtiaq Ahmed says that Gandhi was actually a saint-like personality.
Ahmed has written in one of his essays 'Why I Consider Gandhiji a Mahatma', "He goes to Noakhali, Kolkata, Delhi, etc. to stop the riots after Partition. He would have saved everyone. quell the riots. He stood by those who were being killed. He did not see their religion. Unlike Gandhi, Jinnah never tried to stop the riots anywhere or to heal the wounds of those affected by the riots. Didn't. Jinnah calls for 'direct action' on August 16, 1946, in Kolkata."
Thousands of innocent people were killed in the riots that broke out in Bengal due to 'Direct Action'. The riots spread from Kolkata to Noakhali and Bihar. The instigator of those riots was nowhere to be seen.
On August 7, 1947, when Jinnah was on his way from Delhi to Karachi via Safdarjung Airport, communal riots broke out there and in nearby cities. But he never tried to stop the riot by going anywhere. Riots broke out in areas like Paharganj and Karolbagh. He did not do this work even by going to Pakistan.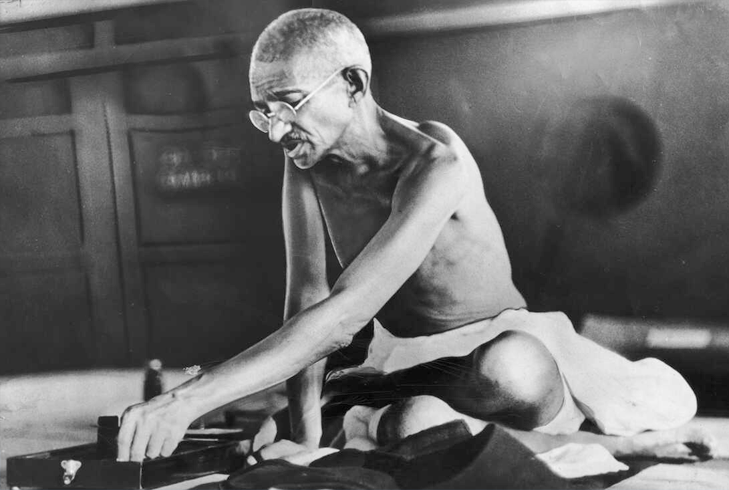 Two types of perceptions about Mahatma Gandhi
There are broadly two types of perceptions about Gandhi in Pakistan. In Punjab, which is the most important province for Pakistan's politics and participation in the army, where he was presented in the books only as a Hindu leader of a certain kind.
There he continued to be described as a leader who was not at least a benefactor of Muslims. In the courses there, he has been projected as an average Congress leader. The governments of Pakistan in the last 75 years have never tried to do justice to the personality of Gandhi, built on the basis of incomplete information.
Pakistani writer Haroon Khalid writes in one place, "A school book in Punjab was banned because it contained Gandhi's pictures and thoughts. The people who banned the book complained that Jinnah or Iqbal replaced Gandhi. Why were the pictures or ideas not kept?"
It is clear that keeping a white image of Gandhi in Pakistan is officially prohibited. Now everyone in Pakistan should be explained that Gandhi was killed because his killers thought that they stand on the side of Muslims or Pakistan.
It seems that most of the writers of Pakistan, including historians, kept calling Gandhi anti-Muslim by consuming cannabis. They project Gandhi as the leader of the Hindus who visits the shrine of Qutbuddin Bakhtiyar Kaki in Delhi which was damaged by rioters three days before his death. By going to the dargah, he assures the Muslims that it will be repaired according to law.
They also stop Muslims from going to Pakistan. But in Pakistan, the same Gandhi is considered an untouchable in the textbooks there, while the verses of the Quran were definitely read in his prayer meetings.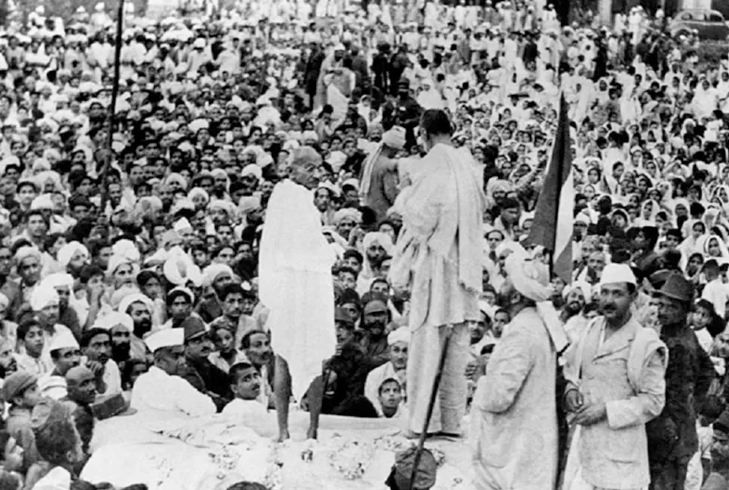 Another image of Mahatma Gandhi in Khyber Pakhtunkhwa province
On the other hand, it can be said about the Khyber Pakhtunkhwa province of Pakistan that there was always an atmosphere in favor of Gandhiji. Perhaps this was because he was the diocese of 'Border Gandhi' Khan Abdul Ghaffar Khan.
Gandhi and Frontier Gandhi were both close friends and allies. Gandhiji also visited this province in 1938 along with Frontier Gandhi. He also went to Peshawar, Bannu, and Mardan.
Let us inform you that the people of Bannu settled in Faridabad, an industrial city adjacent to the capital Delhi. That's why Sarhadi Gandhi went to Faridabad in 1969 to meet his people.
However, Gandhiji was warmly welcomed by the province of Frontier Gandhi. After the partition of the country, the Awami National Party (ANP), which followed the values ​​of Gandhi and Frontier Gandhi, remained the largest and most powerful political group there.
This party was founded by Khan Abdul Wali Khan, son of Frontier Gandhi. He also met Gandhiji repeatedly. Like his grandfather and father, its current leader Afsandyar Wali Khan is also a friend of India. Afsandyar's grandfather and father strongly opposed the partition of the country.
The NPA always took on the fundamentalists. However, it is a matter of concern at present that in the last Legislative Assembly elections in the state of Frontier Gandhi, his party was defeated by Imran Khan's Tehreek Insaaf Party.
Gandhi's views on the Israel-Palestinian dispute
Mahatma Gandhi was keeping a close eye on the Israel-Palestinian dispute.
He said that "Palestinian place belongs to the Arabs as much as England belongs to the British. It would not be right to impose the Jews on the Arabs. It would be better if the Jews were born and lived with them wherever they are." Equality should be treated. If the Jews wanted a place in Palestine, would it be better for them to be forcibly removed from all the places in the world where they are today? Or that they want their own two homes for their own pleasure? "
And the same Gandhi was also demanding from the Indian government to give 55 crores of Pakistan's share. If we talk away from the dogmatic attitude of the government of Pakistan, then the thinking toward Gandhi is changing in the liberal society there.
Gandhi's role in the Chamber of Commerce of both countries
Gandhiji went to Karachi in 1934. That time he had laid the foundation stone of the Karachi Chamber of Commerce building. On that occasion, there was also a plaque on which it was written in English, "Mahatma Gandhi laid this foundation stone of Karachi Indian Merchants' Association on 8th July 1934".
Karachi-based businessman Ashraf Madraswala said that the plaque was removed during the reconstruction of the Chamber building in 2018.
Mahatma Gandhi also had a role in the establishment of the Federation of Indian Chambers of Commerce and Industry (FICCI) on Tansen Marg in the capital Delhi. FICCI was established in 1927 with his inspiration and advice.
A park in Karachi was also named Gandhi Garden. There were political-social programs. Now Gandhi's name has been removed from there too.
Apart from this, the name of the Zoological Garden of Karachi was also 'Gandhi Garden' earlier. Now its name has also been changed to 'Karachi Zoological Garden'.
There was also a park in Rawalpindi named after Gandhi. He was in the Raja Bazar area of ​​the city. All these names have been changed. But, Gandhi's idea is alive even on the other side of the border and is now looked upon with respect by the educated and liberal section there.
Impact of Gandhi and Congress on Lahore and Karachi
Before 1947, only the Muslim League had no effect in today's Pakistan. There the Congress party also had a big support base. Many big sessions of Congress were held in Lahore and Karachi.
On December 31, 1929, in the Lahore session of the Congress itself, a resolution was passed under the chairmanship of Jawaharlal Nehru, demanding 'Purna Swaraj' for India. On this day, the tricolor flag was hoisted on the banks of the Ravi river, taking the pledge of India's independence. Gandhiji was also in this.
Two years after that session, in 1931, the Congress session was held in Karachi. It was an important event in the history of India. It was headed by Sardar Vallabhbhai Patel. The Gandhi-Irwin Pact was supported in this session, which provided an opportunity for Congress to talk to the government on an equal footing.
Obviously, the Congress will have influence in cities like Lahore and Karachi, due to which the Congress sessions were held there. Congressmen living in these cities stayed there after 1947. Gandhiji's commitment to principles like truth, non-violence, and Sarvodaya also remained among them.
Therefore, believe that there are people associated with the ideology of Congress and Gandhi in Pakistan even today.