Chicken tacos are a popular and delicious dish that can be enjoyed by people of all ages. Also, this recipe combines tender and juicy chicken with a variety of flavorful ingredients, resulting in a mouthwatering taco experience.
Whether you're hosting a casual gathering or simply craving a flavorful meal, this recipe will guide you through the process of creating tasty chicken tacos that will leave everyone asking for more.
Ingredients:
For the chicken taco:
1 lb (450g) boneless, skinless chicken breasts
2 tablespoons olive oil
1 teaspoon chili powder
1 teaspoon ground cumin
1 teaspoon garlic powder
1 teaspoon paprika
Salt and black pepper to taste
For the taco filling:
1 tablespoon olive oil
1 small onion, diced
2 cloves garlic, minced
1 bell pepper (any color), thinly sliced
1 teaspoon chili powder
1/2 teaspoon ground cumin
Salt and black pepper to taste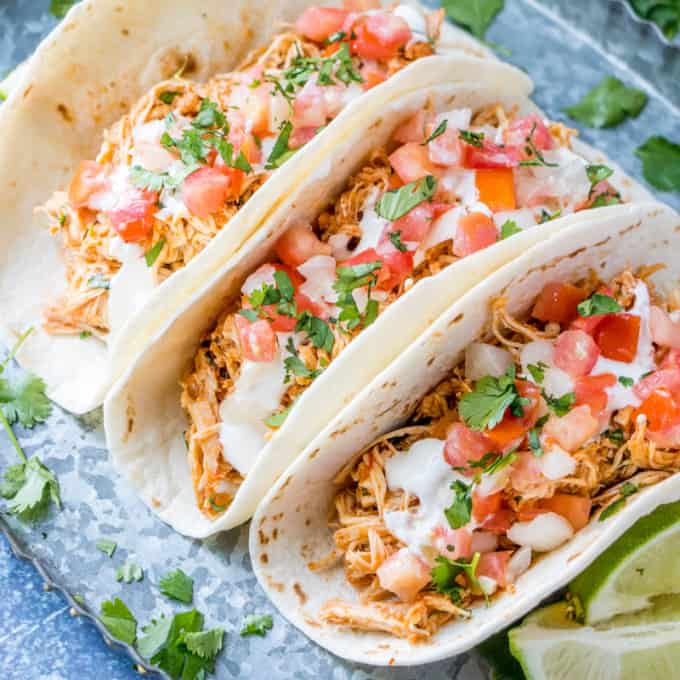 For serving chicken taco:
8 small flour or corn tortillas
Shredded lettuce
Diced tomatoes
Sliced avocado
Chopped cilantro
Lime wedges
Salsa, sour cream, or any other desired toppings
Instructions for chicken taco:
Prepare the Chicken:
a. Start by seasoning the chicken breasts with chili powder, ground cumin, garlic powder, paprika, salt, and black pepper. Also, rub the spices into the chicken to ensure even coating.
b. Heat 2 tablespoons of olive oil in a skillet over medium-high heat. Once hot, add the seasoned chicken breasts.
c. Cook the chicken for about 6-8 minutes per side, or until it reaches an internal temperature of 165°F (74°C). However, the cooking time may vary depending on the thickness of the chicken breasts.
d. Once cooked, remove the chicken from the skillet and let it rest for a few minutes. Then, shred the chicken using two forks.
Prepare the Taco Filling:
a. In the same skillet used to cook the chicken, heat 1 tablespoon of olive oil over medium heat.
b. Add the diced onion and minced garlic to the skillet, and sauté until they become translucent and fragrant.
c. Add the sliced bell pepper to the skillet and cook for a few minutes until it softens slightly.
d. Sprinkle the chili powder, ground cumin, salt, and black pepper over the vegetables, and stir to combine.
e. Add the shredded chicken back to the skillet and toss it with the onion and pepper mixture. Cook for an additional 2-3 minutes to allow the flavors to meld together.
Assemble the tacos:
a. Warm the tortillas by either heating them on a skillet for a few seconds on each side or wrapping them in a damp paper towel and microwaving for 20-30 seconds.
b. Place a generous amount of the chicken and vegetable filling onto each tortilla.
c. Also, top the tacos with shredded lettuce, diced tomatoes, sliced avocado, chopped cilantro, and any other desired toppings.
d. Also, squeeze fresh lime juice over the tacos to add a refreshing tang.
e. Also, serve the tacos immediately with salsa, sour cream, or any other condiments of your choice.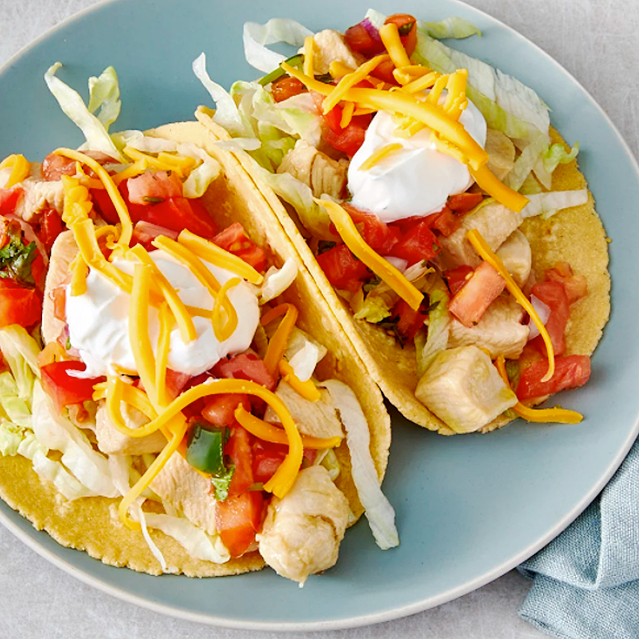 Try these chicken taco
These chicken tacos are a perfect combination of juicy and flavorful chicken, sautéed vegetables, and fresh toppings. Also, the tender shredded chicken, seasoned with aromatic spices, provides a delicious base for the vibrant and crunchy vegetables. Moreover, with the added tang of lime juice and the creaminess of avocado, these tacos are sure to satisfy your cravings.
Connect with us:
https://www.youtube.com/themonktravel
https://www.facebook.com/TheMonk/
https://www.instagram.com/themonk.travel/