Baijnath Temple (Devanagari: बैजनाथ मंदिर) is a Nagara style Hindu temple situated in a small town of Baijnath located in Kangra District, Himachal Pradesh, India, and was built in early 13th century (1204 CE) by two local merchants named Ahuka and Manyuka. It is dedicated to Lord Shiva as Vaidyanath (Devanagari: वैद्यनाथ), 'the Lord of physicians'. According to the inscriptions on the present day Baijnath temple structure, a temple of Lord Shiva had existed before the construction of the present-day structure. The inner sanctum houses a Shiva lingam.
Who built the Baijnath temple?
According to popular belief, this temple was built by the Pandavas during their exile in the Dwapar era, but on the basis of available historical evidence, this narrative does not seem to be appropriate. This temple is constructed from sandstone.
According to folklore, King Ravana of Lanka, who was a great devotee of Lord Shiva, had performed severe penance to please Lord Shiva with the aim of conquering the world. To overwhelm Lord Shiva with this penance, Ravana was about to offer his head in the Havan Kund, when Lord Shiva appeared there and asked Ravana to ask for a boon.
Ravana prayed to Lord Shiva to take him along. On his request, Lord Shiva took the form of Linga and asked Ravana to take him but also put a condition that he should not keep him anywhere on the way till he reached Lanka.
Lord Shiva told Ravana that if he placed this Shivalinga anywhere on the way, it would get established at the same place and his objective of conquering the world would not be fulfilled. The gods got scared because of Ravana and prayed to Lord Vishnu. Accepting the prayers of the gods, Shri Vishnu took the form of a farmer and started working in the fields near the temple site. When Ravana got tired on the way, he stopped for rest and handed over the Shivalinga to a farmer working nearby and requested him not to keep the Shivalinga down, but the farmer kept the Shivalinga there. In this way, Shivalinga was established at the same place.
Baijnath Temple History
It is known that Dussehra is not celebrated in Baijnath because Ravana was a favorite devotee of Shiva. It is said that once some local people burnt the effigy of Ravana during Dussehra and after this, the organizers and their families had to face misfortune. After that, no one tried to celebrate Dussehra here.
According to another popular belief, there is no goldsmith's shop in Shiva city Baijnath, whereas there is a very good business of gold jewelry in Papathela. Shiva devotees also associate this with Ravana's golden Lanka.
For Shiva devotees, there are many other temples of Lord Bhole Shankar near Baijnath. Lord Shiva is present in different forms in all four directions within the radius of two and a half kos of this temple. Lord Shiva is present in the form of Siddheshwar in another temple in the form of Gukuteshwar Nath near Sansal in the east of Baijnath, Pallikeshwar Nath in the west, and Mahakaleshwar near Mahakal in the south.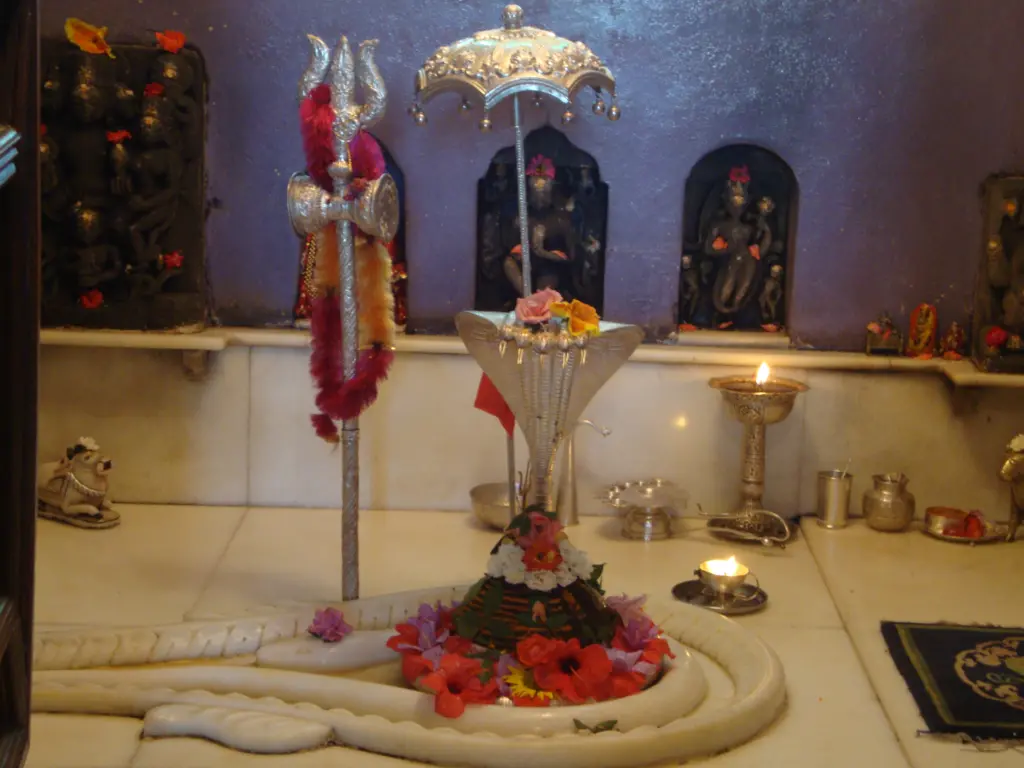 Shivling History Of Baijnath Temple
According to a belief, the Shaktipeeths established in Kangra district, Maa Jwala Ji, Maa Brajeshwari, and Maa Chamunda are worshipped. According to popular beliefs, worship done on Monday in the month of Shravan gives special results. Apart from this, on the festival of Makar Sankranti, Shivlinga is decorated with desi ghee, and dry fruits and walnuts are sprinkled on it. The festival of Mahashivratri is celebrated here with great enthusiasm, reverence, and gaiety. During this time, a fair based on religion and culture is organized here which has district-level status. During this time, artists from local and outside states showcase their art.