Welcome to Nalanda University History in Hindi. Today we are going to tell the history of the world's first international Nalanda University. The ruins of the ancient Nalanda University are located near Bada village, 88 km from Patna city and 13 km from Rajgir, the capital of Bihar. That is, one can find the archaeological remains of a Mahavihara or Buddhist monastery. In ancient times, this scholarly and monastic institution was located in the kingdom of Magadha. Today it is the modern state of Bihar.
If you are fond of history. So a visit to the Nalanda University Archaeological Complex is a rich journey into history, architecture, culture and Buddhism. In terms of education, today India may be behind many countries of the world, but there was a time when India used to be the center of education. Today we bring you everything you need to know about Nalanda University including its history, timings, admission fee and other interesting details.
Nalanda University Information
| | |
| --- | --- |
| ADRESSS | Rajgir, Nalanda district, Bihar 803116 |
| ENTRY FEE | INR 15 for Indian citizens and INR 200 for foreigners Entry is free for children below 15 years of age. |
| TIMINGS | Open everyday from 9am to 5pm. |
| DISTANCE FROM PATNA | 88 km |
| VIDEO CAMERA | INR 25 |
| TYPE | Archaeological Complex |
| ESTABLISHED | 5th century |
| AREA | 30 Acres |
| CONDITION | UNESCO World Heritage Site |
Nalanda University History
The establishment of the educational institution in the city of Nalanda dates back to the 5th century AD. This school served as a highly recognized institution of learning for a long period of 800 years. The university flourished under the patronage of the Gupta kings during the 5th and 6th centuries. The university continued to grow under the rule of Harshavardhana, the emperor of Kannauj in the 7th century and its popularity continued till the 9th century. After that his downfall started.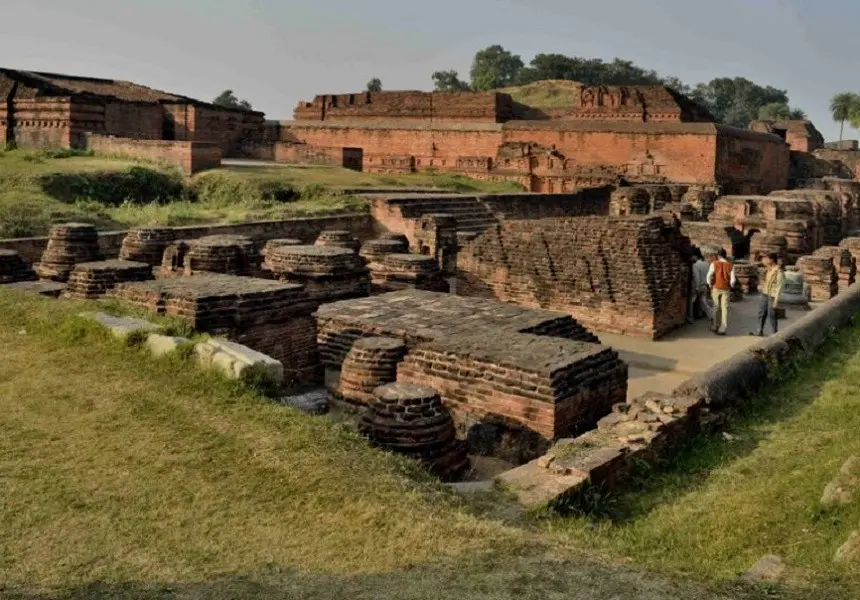 This great center of learning was looted and destroyed by the Delhi Sultanate Bakhtiyar Khilji in the 12th century. Due to Bakhtiyar Khilji, there was a complete collapse and abandonment of the institution. When this institution was at its peak, students and scholars used to come from distant countries like Korea, China, Tibet and Central Asia. Nalanda University was home to over 2,000 teachers and 10,000 students. Mahavira 5th and Lord Buddha visited Nalanda in 6th century.
The famous Chinese scholar Hiuen-Tsang entered the institute in the 7th century to learn the Vedas, Buddhist theology and metaphysics. After its destruction, Nalanda was forgotten till the 19th century. But the Archaeological Survey of India started excavations at the site, the excavations revealed many ruins and they have been included in the UNESCO World Heritage Site.
Nalanda University Architecture
The Nalanda University of Bihar was considered an excellent monument of architecture. Covered by a high wall and a massive gate, the institution consists of several temples, viharas (educational and residential buildings), compounds, stupas, classrooms and meditation halls. Parks and lakes in it make the grounds of the institution picturesque. This is indicated by the excavated ruins of the institution. Bright red bricks were used in the construction of this site.
One of the major attractions in the Nalanda School of Bihar was the well-equipped and spacious library. This huge library was housed in three large multi-storied buildings. He was known by the names Ratrananjaka (Jewel-adorned), Ratnodhadhi (Sea of Jewels) and Ratnasagar (Ocean of Jewels). Ratnodhadhi housed the most sacred manuscripts of the institution and its building used to be nine storeys high.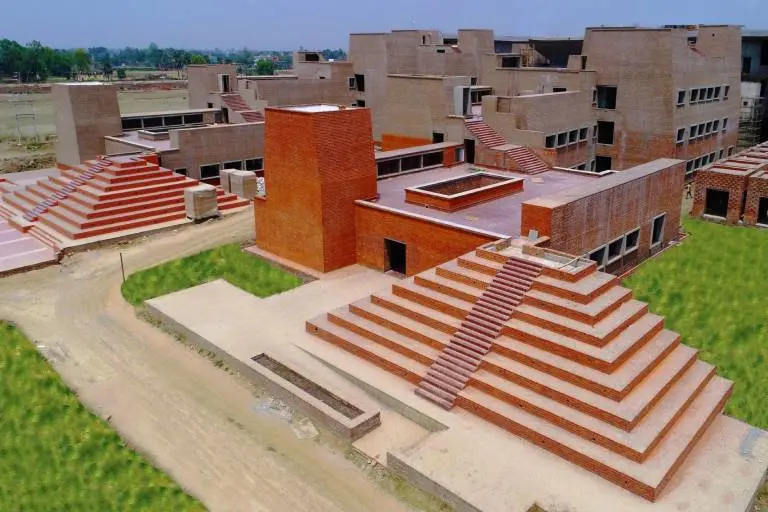 Best Time To Visit Nalanda University
The best time for you to visit Nalanda is between the months of October to March. At that time the weather here is very pleasant and cool. Nalanda experiences severe heat during summer. For the same reason it is not advisable to visit Nalanda during that season. It rains heavily during the rainy season.
Nalanda Mahavihara at present
Nalanda flourished in the medieval period in a huge complex. But only a small part of that huge complex has been excavated till date. At present, apart from the ruins of Nalanda Mahavihara, nothing can be seen at the site. But because of its historical, educational and religious importance, the ruins of Nalanda are considered to be the main historical places in and around Patna.
It is also a major tourist attraction in the country of India. And is an important place for those looking for a Buddhist tourist destination. The ruins of Nalanda have been included in the UNESCO World Heritage Site in India in 2016. The Nalanda University Archaeological Complex is currently owned, maintained and protected by the Archaeological Survey of India. The 30-acre excavated expanse also houses a museum, ruins of temples and other structures.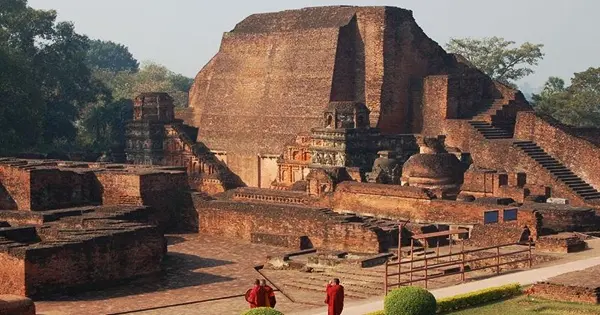 Nalanda Museum
After the year 1917 when Nalanda Mahavihara was excavated. Since then the Nalanda Archaeological Museum has been established. There are many excavated artefacts displayed. Different coins, sculptures, images of Buddha, inscriptions, seals, samples of burnt rice, terracotta jars and other ancient objects are found in it. After visiting the museum, you get to see the peak of the Nalanda Mahavihara. The timings of the museum are from 10:00 am to 5:00 pm. Closed every Friday. And the museum entry fee is 5 per person. and is free for children up to 15 years of age.
Things to see in Nalanda Complex
Tell you that most of the parts of Nalanda Mahavihara have not been excavated yet. But you can see the excavation detail spread over 30 acres. There is a lot involved in that. Seeing whom you will know about the history of Nalanda University. And you can also see the destruction of Nalanda University. The world's first university, where once upon a time students from many countries used to come to study, has now become ruins which you must see with your own eyes. We tell some of its worth seeing places.
Sun Temple
ruins of monasteries
Stupa of Sariputta
Nalanda Archaeological Museum
Sarai Mandir
Nalanda Vipassana Center
Black Buddha Temple
Ruins of Nalanda University
Nalanda Multimedia Museum
Xuan Zhang Memorial
ruins of brick temples
Nearby Attractions from Nalanda Mahavihara
Pavapuri (14 km)
Kundalpur (4 km)
Biharsharif (14.2 km)
Famous food to eat in Nalanda
Due to the Buddhist influence, simple food is available in Nalanda. Vegetarian food is available with dal roti and seasonal vegetables. Litti Chokha is a favorite snack of the locals. Food is available at Lalu Kachalu, Samosa, Kachori, Bhuja, Dahi Chura, Ghuggi Chura and Jhal Mudhi. Tilakul and Anarsa are popular sweets of the extension. You must try the drink here – Sattu Pani, which means food made from roasted grains, spices and water.
How To Reach Nalanda University?
How to reach Nalanda University by train?
If tourists want to go to Nalanda while traveling by train. Nalanda Railway Station, controlled by East Central Railway, is well connected to major cities of India by Delhi-Kolkata line and Patna-Mughalsarai. Everyday superfast and express trains are available on this route.
How to reach Nalanda University by road
If tourists want to go to Nalanda by road. So Nalanda is very well connected to nearby cities like Bodh Gaya, Patna and Rajgir via roads. Regular and private buses ply daily from Nalanda to major cities.
How to reach Nalanda University by Flight
If tourists want to go to Nalanda by aeroplane. So tell that the nearest airport to Nalanda University is Lok Nayak Jayaprakash International Airport in Patna. Patna is 75 km away from this site. This airport is well connected to major cities of India through regular flights.
Interesting Facts
The Nalanda Mahavihara was established by Emperor Kumaragupta of the Gupta dynasty in the 5th century.
The huge library at Nalanda was called Dharmaganj, which means the treasure of truth or the mountain of truth.
The shooting of the ruins of Nalanda can be seen in the Bollywood film Johnny Mera Naam.
Khilji ransacked the university and set fire to the library which burned for months.
Nalanda Mahavihara is a UNESCO World Heritage Site.
There are references to the visit of Hiuen Tsang in the oldest epics of India as well.
Nalanda University had about 10,000 students and 2,000 teachers.