Do you like your adventure holidays to include a spot for skiing? Head to Auli in the Garhwal region of Uttarakhand with its 3 kilometer long slope and a 500 meter long ski lift.
Initially planning for Mussoorie, Dehradun, and Rishikesh, we dropped the former two when we saw how beautiful and snowy Auli is. Rishikesh was chosen for its adventure and Auli, well, because it was simply beautiful and heavenly to look at.
Auli can give many ski resorts a run for their money. Ski equipment is provided and the tourist board (GMVN) offers 7-14 day skiing courses.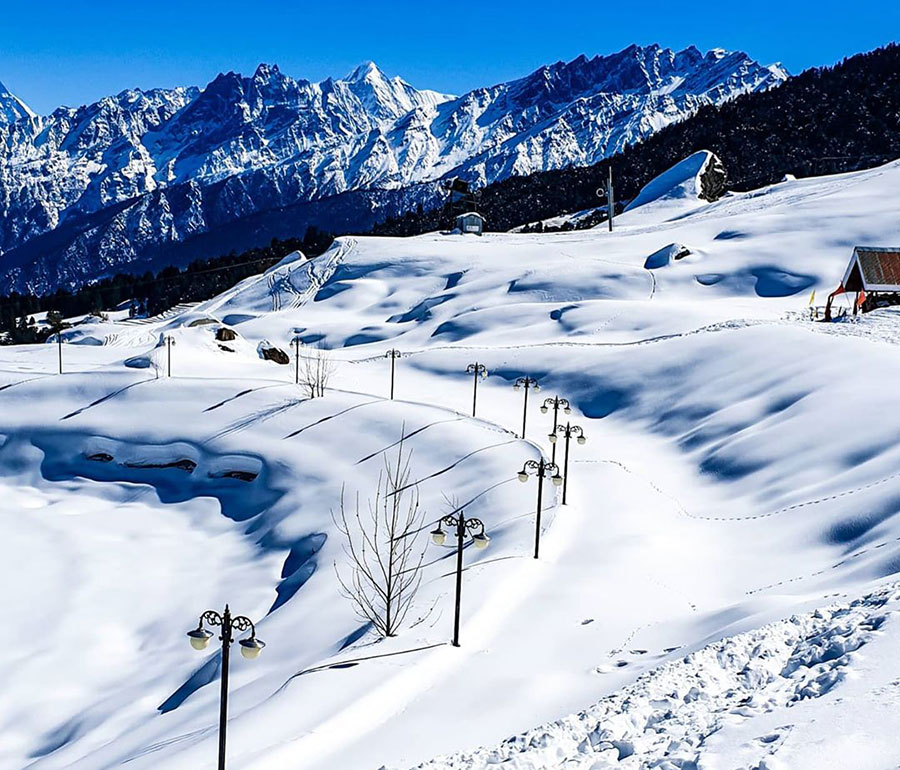 How to reach
Jolly Grant Airport is the nearest airport to Auli at a distance of 286 kms. You can take the train to Rishikesh and take a bus from there. Auli is well connected by road from Rishikesh, Rudraprayag, Srinagar, and Chamoli.
Where to stay
A number of budget hotels are available in and around Auli. You can also switch to guest houses and homestay.
Life has a way of surprising you and my trip to Rishikesh and auli with friends is proof of that. Initially all set for a solo trip (to do bungee jumping and more!).
Auli Covered in snow
If you want to try skiing then Auli is the place for you. Covered in snow, It has many wonderful spots to visit such as Jyotirmath, Chattrakund Lake, Nanda Devi National Park, and more.
7 Hour drive from Chandigarh
The quaint hill station is about seven hours drive from Chandigarh and is among the best in India for those who want to ski. So, make the most of the winters and plan a road trip here to soak in the winter sun and surround yourself with pristine white snow as you slurp on hot Maggi and soup!
The best way to reach Auli
The best way to reach Auli is to take a bus from Delhi to Rishikesh. This is an overnight journey. From Rishikesh, either you can take a private cab direct to Auli (9 hours) or a shared taxi to Joshimath (8 hours)
How much It cost to visit Auli?
With an entry fee of 2500 INR per Indian and 2600 INR per foreigner, this park boasts splendid visuals of the Hem Kumb Sahib Temple, Badrinath Temple, Valley of Flowers, etc. 2. Experience Camping: The best way to explore the grandeur of Auli is to be amidst nature.
If not skiing, then 2 or 3 days will be good enough for Auli. If you have more days then can plan for chopta also.
Weather
In Auli and Chopta, temperatures are predicted to range from 4 to 6 degrees during the day and will dip to as low as -3 to -5 degrees at night.
Rishikesh will be a little warmer with temperatures ranging from 20 to 24 degrees during the day and at night it will be around 10-12 degrees.
Here is a checklist and how to be well prepared for the trip.
Wear layers. It's always better than wearing one thick jacket.
Please make sure you get a couple of thermals (both lower and upper). These will serve as your innermost layers.
Sweaters that will serve as the middle layer. Carry minimum 2-3 for the trip, more if you want to be fashionable
Waterproof/windproof down/fleece jackets that will serve as the outer shell to protect from cold winds.
Winter caps to cover your ears, and scarves to cover the neck
Gloves and lots of woolen socks. These two things will be your best friends for keeping warm!
Chapstick, sunscreen lotion and sunglasses
Snow shoes – During the treks and whenever you move around in the snow, snow might enter your regular shoes, drench them and make it difficult for you to move around. In order for you to comfortably enjoy experiencing the snow, trekking and playing in it, we highly recommend you get a good pair of snow shoes.
Best time to visit
The best time to visit the place is April to June.
It gives you a panoramic view of the Himalayas. Your road trip is set to get more adventurous with the different fun sports available here. A note of caution: the alluring Auli is not for the faint-hearted!