Pav bhaji is a popular street food in India that originated in Mumbai. It is a delicious and filling dish made with a spicy vegetable curry (bhaji) and soft buttered buns (pav).
Here is a step-by-step recipe to make pav bhaji at home
Ingredients for making pav bhaji recipe
4 medium-sized potatoes
1 large onion, finely chopped
1 large tomato, finely chopped
1 capsicum, finely chopped
1 cup green peas
1 tablespoon ginger-garlic paste
2-3 green chilies, finely chopped
1 tablespoon pav bhaji masala
1/2 teaspoon red chili powder
Salt, to taste
1 tablespoon butter
1 tablespoon oil
8 pav buns
Chopped coriander leaves, for garnish
Lemon wedges, for serving
Butter, for toasting the buns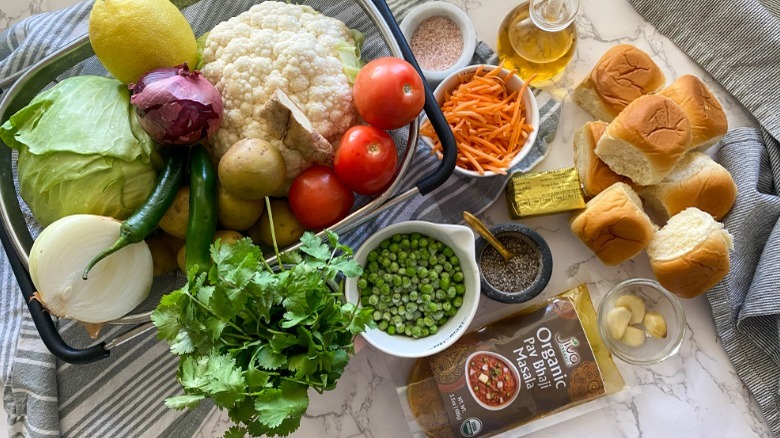 Instructions:
Boil the potatoes and green peas in a pressure cooker or a pot until they are soft and tender. Once done, peel the potatoes and mash them with a potato masher. Keep the mashed potatoes and green peas aside.
Heat a tablespoon of oil and a tablespoon of butter in a large pan. Add the chopped onions and sauté until they turn translucent.
Add the ginger-garlic paste and sauté for a few seconds until the raw smell goes away.
Add the chopped tomatoes and cook until they turn mushy and oil starts to separate from the mixture.
Add the chopped capsicum and green chilies and sauté for a few minutes until the capsicum turns soft.
Add the mashed potatoes and green peas and mix well. Add pav bhaji masala, red chili powder, and salt to taste. Mix well until all the ingredients are combined.
Add 1-2 cups of water and stir well. Let the mixture simmer for 10-15 minutes until the bhaji thickens and the flavors are well blended.
Meanwhile, heat a tawa or a griddle and toast the pav buns with some butter until they turn golden brown on both sides.
Once the bhaji is ready, garnish it with chopped coriander leaves.
Serve the hot and spicy bhaji with toasted pav buns, a dollop of butter, and also a lemon wedge.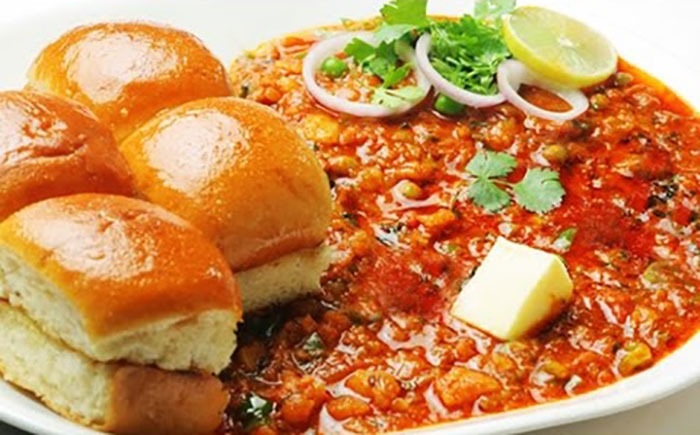 Tips:
You can add other vegetables like carrots, cauliflower, or beans to the bhaji as per your preference.
Adjust the spice level according to your taste by adding more or less of red chili powder and green chilies.
You can also garnish the bhaji with chopped onions and lemon wedges for extra flavor.
Toasting the pav buns with butter adds a delicious flavor to the dish. You can also use a griddle or a toaster to toast the buns.
Also, make sure the bhaji is thick and not runny. If it is too runny, let it simmer for a few more minutes until it thickens.
Serve the pav bhaji hot for the best flavor and taste.
In conclusion, pav bhaji is a delicious and easy-to-make dish that is perfect for a quick meal or a party snack. Moreover, with this recipe, you can easily make it at home and enjoy the spicy and flavorful taste of this popular street food.
Connect with us:
https://www.youtube.com/themonktravel
https://www.facebook.com/TheMonk/
https://www.instagram.com/themonk.travel/