India's most famous voice is Bharat Ratna Lata Mangeshkar, whom we affectionately call Lata Didi. Sur Kokila Lata Mangeshkar worked with every generation. Lata Mangeshkar mesmerized everyone with the magic of her velvety voice for 7 decades.
Lata didi was born on 28 September 1929. Born in a middle-class Marathi family in Indore city of Madhya Pradesh, Lata entered the Guinness Book of World Records by singing more than 50 thousand songs in 36 languages ​​through her magical voice.
There is no doubt that there is no singer like Lata Mangeshkar. There is some magic in Lata's voice that if anyone listens to her songs, she just gets lost in it. In the music industry, he is given the status of God. Let us tell you the hit and popular songs of Lata Mangeshkar.
The song 'Aayega Aane Wala' got recognition
After the song 'Aayega Aane Wala', Lata didi made her own identity in Bollywood. After this, after singing songs like 'Jiya bekraar hai, hawa me udta jaye' from Raj Kapoor's 'Barsaat', Lata established herself as a successful playback singer in Bollywood.
'Ae Mere Watan Ke Logo'
Even today when we listen to Lata Mangeshkar's song Ae Mere Watan Ke People on Independence Day or 26 January, the face of Lata Mangeshkar comes in front. Prime Minister Jawaharlal Nehru was also so impressed by listening to this song that tears came to his eyes.
'Satyam Shivam Sundaram'
Lata Mangeshkar sang this song very simply, this song was not as simple as it sounds. Laxmikant Pyarelal composed this song for Raj Kapoor's film.
'Ae Dil E Nadaan'
This is the best classical song of the 80s. Filmed on Hema Malini, this song was quite a hit and even today, whenever the fans listen to this song, they automatically start singing. This is the song of the movie Razia Sultan.
'Lag ja gale', Lata Mangeshkar
The hit song 'Lag Ja Gale Ki Phir Yeh Haseen Raat Ho Na Ho' from the film 'Woh Kaun Thi' is still liked among the audience. Very few people know that this hit song was earlier refused to be taken in the film. Famous singer Lata Mangeshkar gave her melodious voice to this superhit song. Such was the magic of his voice in the song that it made a place in everyone's heart.
'Ajeeb Dastan hai Yeh'
This is a strange story, Kahan Shuru Kahan Khatam song is from the movie Dil Apna Aur Preet Parai-(Dil Apana Aur Preet Parayee). Even today this song is settled in the hearts of the fans. When Lata Mangeshkar's voice was added to this song, this song created a ruckus.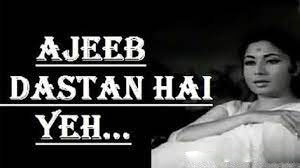 'Ek Pyaar Ka Nagma Hai', Lata Mangeshkar
The depth of life flows in the simple lyrics of this song which makes it immortal. In this, the importance and philosophy of life have been described in a very beautiful way. Ek Pyaar Ka Nagma Hai is the joy of joy. This song is also very close to Lata didi's heart.
'Tere Bina Zindagi Se Koi Shikwa'
The song 'Tere Bina Zindagi Se Koi Shikwa' is from the movie Aandhi. Which has been sung by Lata Mangeshkar.
'Mere Pyaar Ki Umar Ho Itni Sanam'
Mere Pyaar Ki Umar Ho Itni Sanam song is from the movie Waris, which is sung very beautifully by Lata Didi. Many times it also happened that after listening to the songs of Bharat Ratna Lata, it was said that her voice is very thin. But no one can sing the song 'Mere Pyaar Ki Umar Ho Itni Sanam' better than Lata.
'Solah Baras Ki Bali Umar Ko Salaam', Lata Mangeshkar
The song Solah Baras Ki Bali Umar Ko Salaam is from the film Ek Duje Ke Liye, whose music is by Laxmikant – Pyarelal. Lata didi has given her voice in this song. Her hard work is behind her as successful as Lata ji in the film world.
Lata Mangeshkar also faced rejection in the initial days. But with time Lata didi started ruling in the hearts of the people. Lata became very famous after singing 'Sixteen Baras Ki Bali Umar Ko Salaam'.