On August 2, 1990, the then Foreign Minister Inder Kumar Gujral was giving a luncheon in honor of Amarkam Mangaldas, the Foreign Minister of the Philippines. Then Indian Ambassador to Kuwait AK Budhiraja got a call that Iraq has attacked Kuwait.
On the same day, Sheikh Al-Zaber Al-Sabah, the ruler of Kuwait, fled and took refuge in Saudi Arabia. Immediately a meeting of the Security Council was called where both the US and the Soviet Union unanimously condemned the attack on Iraq.
At that time, about 2 lakh Indians were living in Kuwait. Since contact with those people was lost, their relatives living in India became very upset.
Immediately a meeting of the Cabinet Committee on Political Affairs was called where Foreign Minister Inder Kumar Gujral suggested that he immediately go on a trip to Moscow, Washington, Amman and Baghdad.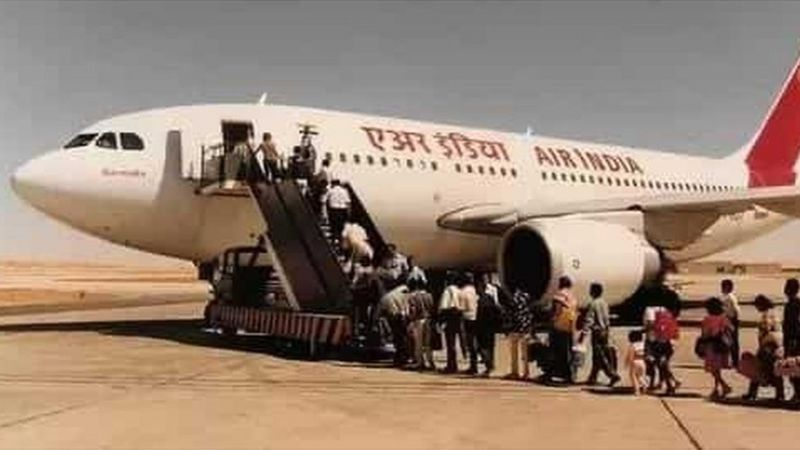 At that time he had two options. Number one, to persuade America not to attack Kuwait to drive out the Iraqi army from Kuwait so that the Indians living there would be safe. The second option was to persuade Iraq to help Indians living in Kuwait to bring them safely to India.
Gujral's America mission failed. The Americans refused to accept Gujral's request.
Gujral reached Baghdad early in the morning of 19 August via Moscow, Washington and Amman. He first went to the Indian Embassy where about 100 Indians who had fled from Kuwait had arrived.
img upload
Gujral's meeting with Saddam Hussain In Kuwait
Inder Kumar Gujral writes in his autobiography 'Matters of Discretion – An Autobiography', "Saddam Hussain was wearing a khaki uniform and a pistol was hanging from his waist. He embraced me as soon as he saw me. This picture was published in newspapers around the world. It was published and it made our situation a bit strange because it sent the message that Saddam Hussain, who was being condemned all over the world, was being embraced by the Foreign Minister of India.
"During the conversation, Saddam Hussein told me that he would give a befitting reply if he was attacked. In his view, the Soviet Union was no longer the force it once was."
"After a while I met the foreign minister there, Tariq Aziz, and we finalized the plan to bring back the Indian people from Kuwait and Iraq." On the morning of 21 August, Gujral received a message from Iraqi President Saddam Hussain asking him to immediately want to meet
img upload
India's crisis situation during this incident in Kuwait
KP Fabian, who later became Joint Secretary (Gulf Countries) at that time and then India's Ambassador to many countries, defended Gujral by saying in an interview to 'Foreign Affairs General' that "If the head of state of a country wants to hug you Aap 'dak' toh nahi sakte (You can't deny it). Gujral's hug to Saddam was wrong or right. But Saddam agreed to help send the stranded Indians back to their country."
But India also had to go through a big religious crisis for this. Most of his Arab friends strongly condemned the attack.
At that time, India's permanent representative in the United Nations, Chinmoy Garekhan, says, "I also advised the government that like the whole world, we too should condemn this attack by Saddam Hussain. But my advice was not accepted. India only condemned this attack. But expressed grief."
"I remember when the then foreign minister Inder Kumar Gujral came to New York, he told Sheikh Sabah Al-Ahmed, the foreign minister in exile of Kuwait, that we are 101% with Kuwait. Your 100 per cent support will also do, but we want a great country like India to condemn this attack."
img upload
Gujral brought 150 Indians home in his plane
On the afternoon of 22 August, Gujral reached Kuwait from Baghdad. When he reached the Indian mission, there were already about one thousand Indians gathered there.
There was no high ground, so Gujral addressed them standing on the roof of his car.
As soon as people came to know that Gujral was trying to take them back to India, they started raising slogans of 'Bharat Mata Ki Jai'.
Gujral left for Delhi on 23 August at 9 pm. About 150 people sat with him in his plane, mostly pregnant women and children.
Gujral also brought with him a huge bag of letters which Indians living in Kuwait had given to their relatives living in India.
Planes were not allowed to go to Iraq
The cabinet first decided that it would send a ship to Iraq to bring back the Indians, but Iraq did not allow the Indian ship 'Tipu Sultan' to go there.
When it was decided that Indian Air Force planes would be sent to bring Indians, Iraq did not allow that too.
His condition was that Indian planes would be allowed to enter Iraq only when they come to Iraq with food stuffs with them. Till then the whole world had imposed economic sanctions on Iraq. So there was no question of taking food items there.
Initially, it was thought that perhaps there would be no need to evacuate people from Kuwait. But gradually the situation started deteriorating there.
Agnel Rebello, a regional manager of a multinational company who has been living in Kuwait since the 1980s, said, "The Iraqi soldiers treated us well, but some Palestinians living there started looting people. Once a man pointed a pistol at my head. He asked me to give him his car. Fortunately, I had removed some parts of the car, due to which he could not start the car.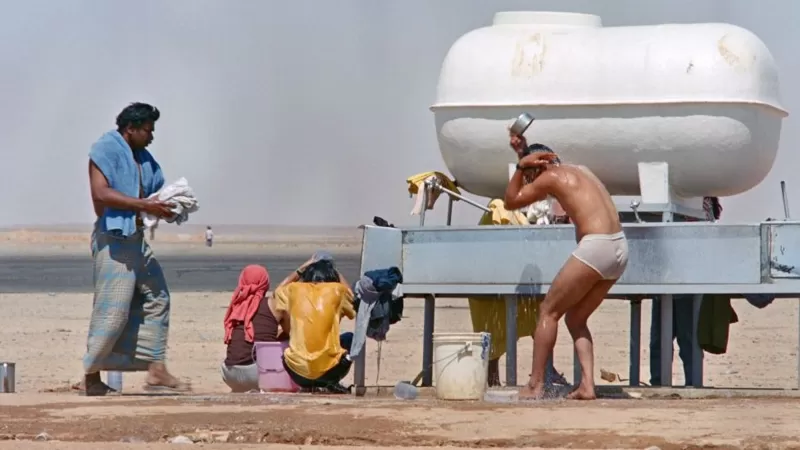 Air India aircraft deployed to bring people from Kuwait
At last Air India planes were used to evacuate the Indians from Kuwait. But the question arose from where to get planes to bring so many people?
In February 1990, an A-320 aircraft had crashed, due to which the entire fleet of newly purchased A-320 aircraft was grounded. Those aircraft were not allowed to fly. At that time a huge political controversy had also arisen on the purchase of these planes.
Air India used these grounded planes to evacuate Indians from Kuwait. The responsibility of coordinating this entire mission was given to KP Fabian, Joint Secretary for Gulf Countries in the Ministry of External Affairs.
He later wrote in the Economic Times, "I received a phone call from London on 2nd August from the late KTB Menon, the richest Indian in Kuwait. He said he was prepared to pay the cost of getting every Indian out of Kuwait. I thanked him. But also said that if it is necessary to evacuate people from there, then the Government of India will bear its expenses. If the situation becomes difficult, we will consider your offer."
"Every day the Air India manager in Amman would call me up to tell me how many people were to be evacuated the next day. I would call up Civil Aviation Secretary AV Ganesan. Air India flights would be dispatched to Amman as per the requirement. "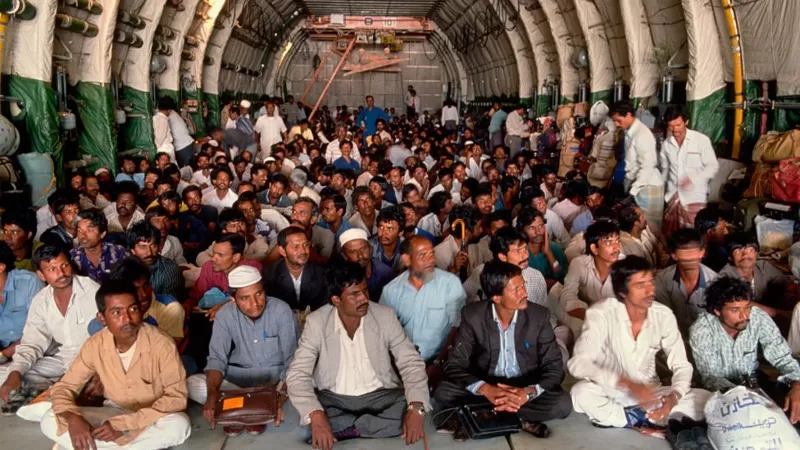 The trouble of Indians trapped in Kuwait increased
Due to the economic sanctions of the United Nations Security Council, no civilian aircraft was allowed to land in Iraq and Kuwait. So people were taken in buses first to Iraq and then to Amman, the capital of Jordan. Getting them to Amman was not an easy task.
Firstly, people were not ready to come back to India leaving their life's earnings. Secondly, many people living there did not have valid travel documents. They had deposited their passports with their owners. Many of them were either missing or had died.
Noted journalist Salil Tripathi wrote in the September 15, 1990 issue of India Today, "Nearly one lakh sixty-five thousand Indians are still stranded in Kuwait and Iraq, cut off from the rest of the world. Their lifetime earnings have been reduced to zero because Iraq has devalued Kuwait's dinar twelve times to make it equal to Iraq's dinar.
He has not eaten anything for many days. There is dust in his hair. His throat is dry, his voice hoarse. Overnight the Indian Embassy situated on a beautiful hill in Amman has become like a railway platform. Arun Goyal, First Secretary of the Indian Embassy, says, "It is like organizing a Kumbh Mela, that too without any resources."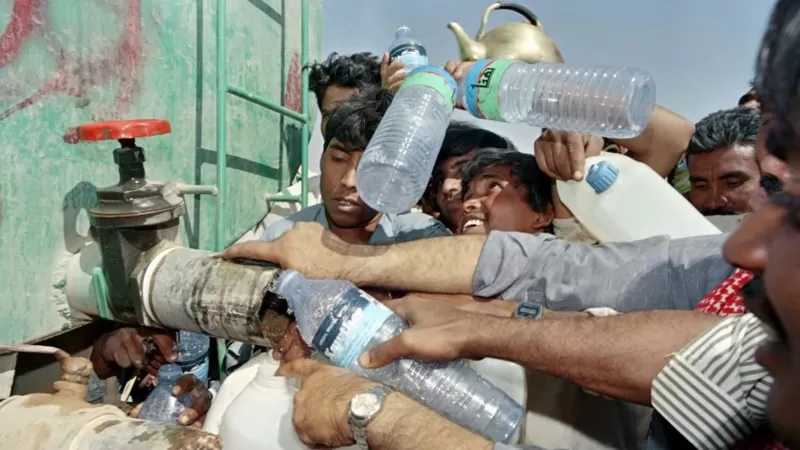 People took shelter in schools in Amman
An Air India crew was stranded in Kuwait. After landing there, he was not allowed to fly back from there. Pilots and other employees of Air India were insisting on the government that they would not fly the plane if their companions did not come back safely. Many Indian people had taken shelter in several schools and other buildings in Amman.
It was difficult to tell how many of these people would reach the airport at what time due to which many flights were delayed. Employees of Pakistan International Airlines were also stranded in Kuwait.
He requested the Government of India to take him out of the Indian aircraft on the basis of humanity. Air India aircraft also brought them out safely.
India was the first country to airlift its citizens from Kuwait, Air India planes had reached there even before Pakistan and Egypt. India's Foreign Minister Inder Kumar Gujral was the first minister who was allowed to visit Kuwait.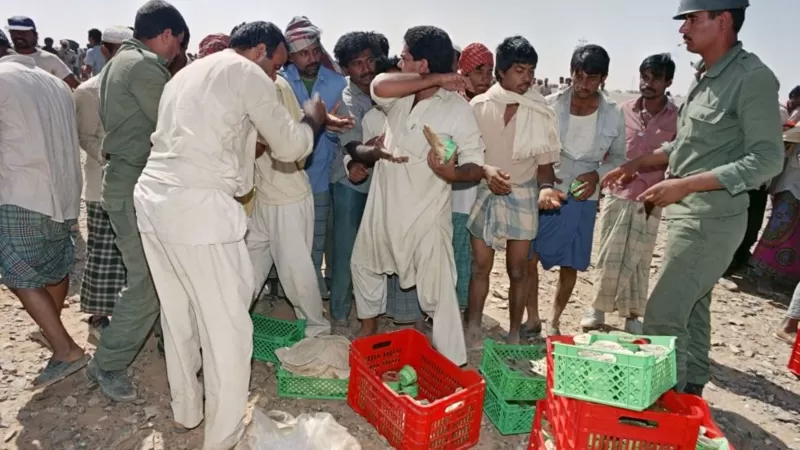 Situation during that time
Campaign to bring people went on for 63 days
At that time, India was ruled by a weak coalition of the Janata Dal. It was supported by the Communists and the Bharatiya Janata Party from outside.
India's economic condition could not be called strong. This operation of Air India started on 14 August 1990 and lasted till 11 October i.e. 63 days.
Meanwhile, Air India planes flew four flights daily to Amman and brought a total of one lakh seventy thousand Indian people to India. Later in 2016 a film 'Airlift' was also made on this campaign. It was used to evacuate people safely by air. Recorded in the Guinness Book of Records as the largest campaign.
Within a month of the end of this campaign on October 11, VP Singh's government fell.
Today, about one million Indians live in Kuwait, which is 20 percent of the population there.
Connect with us:
https://www.youtube.com/@TheMonkTravel
https://www.facebook.com/TheMonk/
https://www.instagram.com/themonk.travel/