Chicken wrap is a delicious and convenient option for a healthy meal. Packed with protein and veggies, they also provide a balanced and satisfying combination of flavors.
In this article, we will share a recipe for a healthy chicken wrap that you can easily prepare at home.
Ingredients:
2 boneless, skinless chicken breasts
1 tablespoon olive oil
1 teaspoon paprika
1/2 teaspoon garlic powder
Salt and pepper to taste
4 whole wheat tortillas
1 cup shredded lettuce
1/2 cup sliced cucumbers
1/2 cup sliced bell peppers
1/2 cup sliced tomatoes
1/4 cup sliced red onions
1/4 cup chopped fresh cilantro
2 tablespoons plain Greek yogurt
2 tablespoons hummus
Optional: Squeeze of fresh lemon juice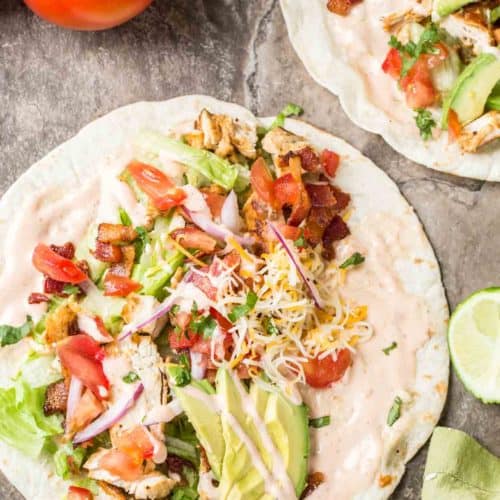 Instructions to make chicken wrap:
Preheat your grill or stovetop grill pan over medium-high heat.
In a small bowl, combine the paprika, garlic powder, salt, and pepper. Rub the chicken breasts with olive oil, then sprinkle the spice mixture evenly over both sides of the chicken.
Place the chicken on the grill and cook for about 6-8 minutes per side, or until cooked through and no longer pink in the center. Remove from the grill and let it rest for a few minutes before slicing it into thin strips.
While the chicken is cooking, prepare the vegetables. Wash and slice the lettuce, cucumbers, bell peppers, tomatoes, and red onions. Chop the fresh cilantro.
Warm the tortillas by heating them in a dry skillet over medium heat for about 30 seconds on each side or until they are pliable.
To assemble the wraps, spread about 1/2 tablespoon of hummus onto each tortilla, leaving a small border around the edges. Next, spread about 1/2 tablespoon of Greek yogurt on top of the hummus.
Place a handful of shredded lettuce down the center of each tortilla, followed by the sliced chicken, sliced cucumbers, bell peppers, tomatoes, red onions, and chopped cilantro.
Optional: In addition, you can squeeze a bit of fresh lemon juice over the fillings for an extra burst of flavor.
To fold the wraps, start by folding in the sides of the tortilla, then roll it up tightly from the bottom, tucking in the fillings as you go. Also, cut each wrap in half diagonally for easier handling.
Serve the chicken wraps immediately or wrap them in foil for a grab-and-go meal.
Conclusion:
These healthy chicken wraps are not only tasty but also versatile. Moreover, feel free to customize the recipe based on your preferences by adding or substituting different vegetables or sauces. You can also add a sprinkle of feta cheese or a drizzle of hot sauce for an extra kick. Also, enjoy these wraps as a quick and nutritious lunch or dinner option that will keep you satisfied and energized throughout the day!