India is a country known for its diverse landscapes, from lush forests and towering mountains to beautiful coastlines. If you're an adrenaline junkie looking for an exhilarating experience, bungee jumping is a thrilling adventure sport that allows you to leap off a platform and experience a freefall before being pulled back by an elastic cord.
In this article, we will explore some of the top bungee jumping places in India
Rishikesh, Uttarakhand: Rishikesh, nestled in the foothills of the Himalayas. It is not only a spiritual hub but also a popular destination for adventure sports. The bungee jumping spot in Rishikesh is located at Mohan Chatti, around 20 kilometers from the city center. Moreover, the jump site offers breathtaking views of the Ganges River and the surrounding forests. Also, the jump platform is constructed on a cliff over 80 meters high, providing a thrilling experience for adrenaline enthusiasts.
Lonavala, Maharashtra: Lonavala, a hill station located near Mumbai and Pune, is famous for its picturesque landscapes and pleasant weather. The Della Adventure Park in Lonavala is home to one of the highest bungee jumping platforms in India. It is standing at a height of 45 meters. Moreover, the jump offers panoramic views of the Western Ghats and is an exciting experience for adventure seekers.
Bangalore, Karnataka: Bangalore, known as the Silicon Valley of India, also offers an opportunity for bungee jumping. The Ozone Adventures in Bangalore provides a platform for it at a height of 25 meters. Also, the jump site is located in a natural setting surrounded by greenery, providing a unique experience for thrill-seekers in the city.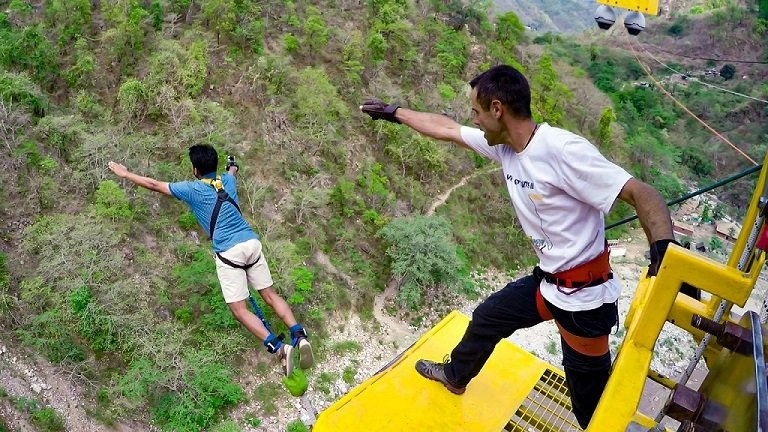 Goa: Known for its beautiful beaches and vibrant nightlife. Goa is not only a popular tourist destination but also offers a chance for bungee jumping. Located at Anjuna, Goa, the Gravity Adventure Zone provides a bungee jumping platform at a height of 25 meters. Imagine jumping from a towering platform against the backdrop of the azure sea and sandy beaches.
Some more places
Delhi/NCR: If you're in the capital city of India, you don't have to travel far to experience bungee jumping. The Indian Mountaineering Foundation (IMF) offers a bungee jumping facility in South Delhi. The jump platform stands at a height of 25 meters, providing an adrenaline-pumping experience for adventure enthusiasts in the heart of the city.
Jagdalpur, Chhattisgarh: Jagdalpur, located in the Bastar district of Chhattisgarh, is known for its natural beauty and tribal culture. The Chitrakoot Falls in Jagdalpur, often referred to as the "Niagara Falls of India,". It provides a stunning backdrop for bungee jumping. The jump site is situated near the falls, with the jump platform positioned over the Indravati River. It offers a unique experience for the sport enthusiasts in a serene and scenic setting.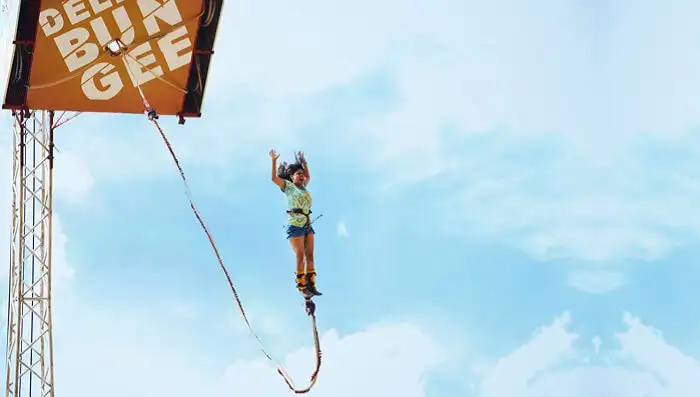 Kolad, Maharashtra: Kolad, situated on the banks of the Kundalika River, is a popular destination for adventure activities. Apart from rafting and other water sports, Kolad also offers bungee jumping experiences. Also, the jump platform at Kolad stands at a height of 40 meters. It is providing an adrenaline rush as you leap into the air and enjoy the natural surroundings.
It's important to note that this sport is an extreme adventure sport and requires proper safety measures. Moreover, always choose a reputable and certified operator that follows international safety standards. Before participating in any bungee activity, ensure that you are in good health and meet the required weight and age restrictions set by the operator.