What comes to your mind when you hear the name snow? Your favorite ice drink, ice cubes, or Shimla ice cream. But do you know that a small piece of ice can enhance your beauty and get rid of common skin problems? A better option to remove acne, dark circles, and dark underarms is these special ice cubes made of vegetables. Let us know the benefits of ice on skin.
Benefits of ice on skin:
Tomato ice cubes for dark circles: – If you have frequent pimples or dark circles under your eyes, then you can make tomato puree to get rid of them easily. Now put tomato puree in an ice tray and make ice cubes. Now rub this ice cube in your dark circles every day. Keep in mind, use this ice cube by keeping it inside a cotton cloth. Use it twice a day. It acts as a great cleanser and toner for the skin. If you have dry skin, then you can also add the almond paste to it and if you have oily skin then add lemon juice to it.

Get rid of the blackness of the underarms: – Many of you must have used potato peels to remove dark circles, but do you also know that ice cubes made from potato paste are also benefits in removing the blackness of your underarms? Along with removing the blackness of your underarms, it can also get rid of the bad smell coming from your underarms. For this, you make an ice cube by putting potato paste in an ice tray and then rubbing it on the underarms and keeping it for at least 20 minutes.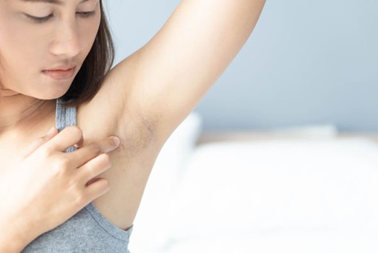 Benefits of ice on skin for removing tanning
Cucumber ice cube: – Cucumber ice cubes made from ice cubes help you to remove sunburn, tanning facial blemishes, and acne. For this, make a paste of cucumber and add jasmine or neem oil to it and make ice cubes. Rub it on your face, neck and hands, and elbows. Leave 15-20 minutes. It will remove your tanning and help you get rid of acne. Apart from this, you can use this ice cube made of cucumber and lemon, along with removing eye fatigue. It helps in maintaining the coolness of the skin and the glow of the face. If you want, you can also make aloe vera ice cubes. This is how ice cubes provides benefits to the skin.
Some essential tips for using Ice Cube
Never use ice cube directly on the skin, keep it in a clean cloth and apply it on the skin. Apart from this, never use it for more than 15-20 minutes.
If you use ice cubes before applying makeup, then it makes your makeup last for a long time.
Make ice cubes only in clean water or a clean tray because dirt can cause damage to the skin.
Always use ice cubes without makeup.
(Disclaimer: The information given here is based on home remedies and general information. Before adopting it, definitely take medical advice. THE MONK does not confirm this.)